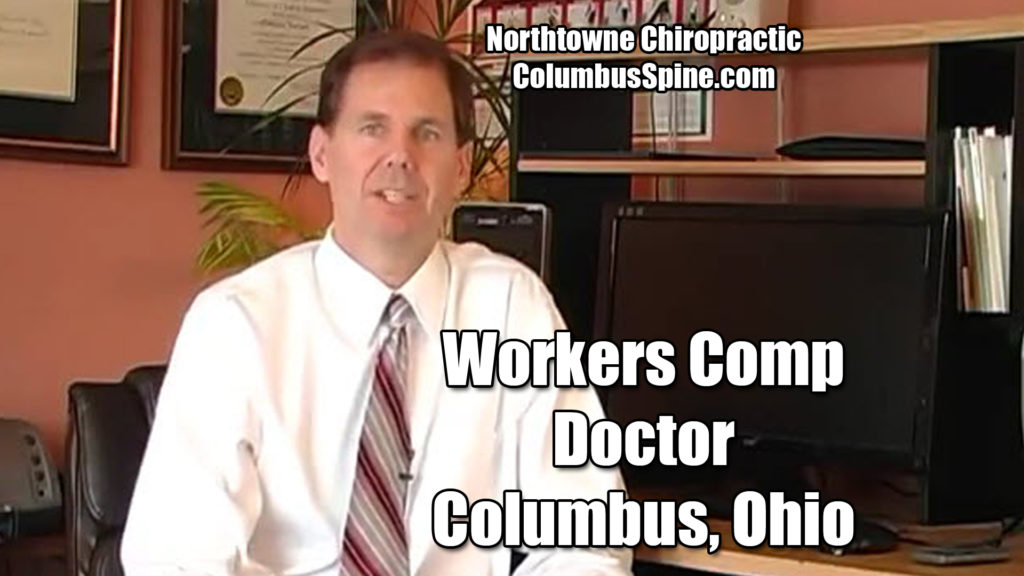 Dear injured worker,
My name is Dr. Larry VanSuch and I am a Workers Compensation Chiropractor here in Columbus, Ohio. I have been treating Ohio BWC Injured Workers since 1994 and during this time my chiropractic office has always had three main goals for our patients. These three goals are:
Help the injured worker recover from their injuries as soon as possible.

Help the injured worker return to work as soon as possible.
Fill out all necessary paperwork to help the injured worker get paid if they happen to miss any time off from work.
For some patients, this is a straight forward process but for others, this can be an outright nightmare especially if they are not getting any support from their employer, or, managed care organization (MCO).
One would think everyone is working toward the same three goals we have but experience has taught me otherwise. In fact, I've had far too many patients come in to our office more concerned with non-physical complaints than ones caused by the injury. The list below is a small sampling of what our injured workers have had to deal with aside from pain:
They are getting tired of waiting for their next hearing, next doctor's appointment, or for their workers comp claim to simply be approved from the bureau.
The Ohio BWC is delaying treatment, surgery, or financial benefits.
The workers compensation doctor their employer sent them to DIDN'T DO ANYTHING! Worse yet, this comp doctor said they were healed and can go back to work!
Physical therapy didn't help them and they are tired of taking medications.
They are worried they will get fired if they don't return to work.
The Ohio BWC doctor spent less than 5 minutes with them.
The work injury is several years old, and they know there is something else more seriously wrong but no one can tell them what it is. (Dr. Van Such can help file a report for additional allowances. See his slip and fall injury report and lifting heavy object injury report that proves discs get injured during work accidents.)
They want to know if they should get an Ohio BWC workers compensation attorney.
Their BWC claim has been denied and their employer is fighting them.
They stopped their workers compensation benefits and more…
What we have also found is that what the majority of injured workers really want is a doctor WHO WILL LISTEN TO THEM! Sounds crazy, for sure, but that has been one of the biggest complaints with "The System".
WE ARE GREAT LISTENERS
Listening to patients is one of the things we do best. My office manager, Jamie, is an expert in communicating with employers, MCO's and/or attorneys and I am always in on those conversations as a second set of eyes and ears to make sure things are done correctly.
If you become a patient in my office, rest assured not only will you receive expert care for your physical complaints but you will also get our utmost attention in communicating with everyone involved.
EXCELLENT CHIROPRACTIC TREATMENT
Aside from myself, there are two other workers compensation chiropractors in my office.  Dr. Rick Horsfield has been treating injured workers with chiropractic care in my clinic since 2008.  He is a long time friend and a very skilled chiropractor.
His passion for helping patients get better is unmatched and he will spend as much time with you as needed.   His report writing and note taking skills are excellent and this will go a long way toward effectively communication your chiropractic treatment with your attorney, managed care organization and employer.
The other workers compensation chiropractor working closely with my is Dr. Daniel Jurus.  Dr. Jurus is my nephew and a recent chiropractic graduate.  Dr. Jurus is already an expert in diagnosing and finding underlying postural imbalances.  Once the poor posture is addressed, proper correction of the injured workers spine can begin.
Dr. Jurus is extremely personable an will give injured workers all the time and attention they need.  With both my and Dr. Horsfield's oversight, Dr. Jurus has become a remarkably good chiropractor in such a short period of time.
WE CAN AND WANT TO HELP INJURED WORKERS
I know how challenging being an injured worker can be as I have literally seen more than 3,000 cases in my 22 year chiropractic career.  Helping them get what they deserve with regards to their healthcare is a passion of mine.
If you decide to become a patient in my chiropractic office, you will access to not one, not two, but all three of us chiropractors.  While only one may be your official treating physician, all three of us will be available for you to answer any health questions you may have.
Please call our office today and schedule an important if you have been injured at work in, or around, the Columbus, Ohio area.
Sincerely,
Dr. Larry VanSuch