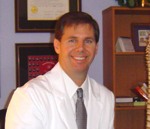 Dear Injured Worker,
My name is Dr. Larry VanSuch.  Having been an Ohio BWC Certified Provider here in Columbus since 1994, I have worked closely with many different workers compensation attorneys and law firms. During this time, I have seen some really great ones take amazing care of our patients and I've also seen a few "drop the ball" at critical moments.
Communication is Key
These experiences (on both ends of the workers compensation attorney spectrum) have allowed me to see what works and what doesn't when it comes to successfully managing a patient's claim from a legal standpoint.
While I am no lawyer, I do know enough about what it takes to effectively work through a case from a doctor's point of view and the single most important criteria you need to have with an attorney, or, law firm that I have found is an open and ongoing line of communication.
Good cases become great cases when your lawyer effectively communicates with you and your doctor in a timely fashion and your doctor effectively communicates with you and your lawyer in a timely fashion.
If an open and ongoing line of communication can be established from the start between all three parties, then all other communications you may have with your employer, managed care organizations (MCO's) and Ohio BWC will go smoothly and you will get what you rightly deserve.
If you, your doctors and/or your lawyer aren't all effectively communicating with each other every step of the way, your claim is likely to develop problems in the form of missed appointments, missed filing deadlines and loss of benefits to name a few. The stress this puts on a patient can be overwhelming.
Highest Workers Compensation Attorney Recommendation
In good faith, I can honestly say that we have outstanding open and ongoing lines of communication with the following Ohio BWC Workers Compensations Attorneys and Law firms and they have our highest recommendation when it comes to effectively working with them in the management of our patients cases:
In No Particular Order:
The Law Offices of Charles W. Kranstuber, LPA
495 S. High Street, Suite 400
Columbus, Ohio 43215
Telephone: (614) 255-6134
Facsimile: (614) 255-6135
Connor, Kimmet & Hafenstein LLP
Attorneys and Counselors at Law
2000 West Henderson, Suite 460
Columbus, Ohio 43220
Telephone: (614) 464-2025
Facsimile: (614) 224-8708
LARRIMER & LARRIMER, LLC
165 North High Street
Columbus, OH 43215-2486
Telephone: (614) 221-7548
Facsimile: (614) 221-8659
Malek & Malek Attorneys at Law
1227 South High Street
Columbus, Ohio 43206
Tel: (614) 444-7440
Fax: (614) 444-8836
Law Offices of Stanley R. Jurus
1375 Dublin Road (Rt. 33)
Columbus, Ohio 43215-1069
Telephone: (614) 486-0297
Facsimile: (614) 486-8580
STEUER | ESCOVAR | BERK | BROWN
Attorney Patrick P. Merrick
55 Public Square, Suite 1475
Cleveland, Ohio 44113
Ph: (216)771-8121
Fax: (216) 771-8120
Attorney Carla J. Cannon
79 S. State St.  Suite D4
Westerville, Ohio 43081
Ph: (614) 816-0603
Fax: (866) 278-1921
Gardner Law, Attorney James E. Gardner
628 West Market Street
Akron, Ohio 44303
Telephone: (330) 535-5757
Facsimile: (330) 535-3177
If you have any of the above workers compensation attorneys, rest assured you are in great hands and we will be happy and honored to work with them.  If you have one that is not on this list, that is not to say they aren't any good…it just means that we may not have had many cases with them to have established an ongoing dialogue but would be happy to work with them if you are satisfied with their services.
If you do not have a workers compensation attorney and are looking for a great one, we will likely recommend one from the above list.
I look forward to working with you, your attorney, your employer and MCO as we begin your journey back to wellness.
Sincerely,
Dr. Larry VanSuch